News
DDC's Single Board Computer chosen by KHI for MMX Mars sampling mission!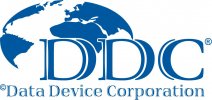 View Company Profile
Data Device Corporation (DDC) announces that Kawasaki Heavy Industries (KHI), developer of the Martian Moons eXploration (MMX) sample collection manipulator system, has chosen DDC's SCS750G4® Single Board Computer (SBC) for use on the MMX program for the Japan Aerospace Exploration Agency (JAXA). MMX is planning to collect surface material from Phobos (the larger of the two Mars' moons) and bring it back to Earth. As the primary mission developer for the program, KHI selected DDC's SCS750G4 SBC for its processing power, radiation performance (notably, best-in-class SEE performance with less than one error in 80 years), and known reliability. DDC's SCS750G4 SBC provides the optimal technical capabilities for advanced manipulator control that is essential for challenging sampling missions under the extreme conditions of microgravity on celestial surfaces.
Please visit this website for more information on all of DDC's products for space: http://www.ddc-web.com/Products/SpaceME.aspx
SCS750G4® Single Board Computer Highlights:
Proven Reliability
Utilized with confidence in the most critical missions

TID > 100krad(Si); SEL immune

SEU Hard; 1 board upset every 80/115 years (GEO/LEO)
Optimized Performance
Triple Redundant Processing for high performance and excellent upset rates

Seamless error correction

64 GBytes of BCH corrected NAND Flash

Software controlled speed/power: 200-1800 MIPS; 7-30W typical

Error-corrected memory (SDRAM and EEPROM)
"DDC is honored to have been selected by KHI and JAXA for the very important MMX mission to collect samples from Phobos and bring them back to Earth", stated Joseph Castaldo, Product Line Director of DDC Space Microelectronics, based in Poway, California where the SCS750G4s are designed and manufactured. "Since inception, more than 20 years ago, our Single Board Computers and our space electronic components, with more than 100,000 units shipped, have experienced zero failures in space, which will help to ensure the success of the MMX Program".