News
Space Saving, 3.3V I/O FBGA Two-Speed Synchro/Resolver Combiner!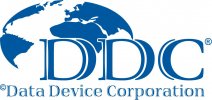 View Company Profile
The SD-15901 FBGA design provides space and power savings with a 34% smaller footprint and 35% less power dissipation than the previous generation, enabling SWaP optimization of PCB layout and ease of assembly with ball grid array surface mounting.
Using coarse and fine digital angle inputs, the combiner provides up to 22-bit angle resolution, making it ideal for high-performance position control systems requiring real-time precision resolution. Additionally, the SD-15901 is RoHS compliant, and rated for the full military temperature range (-55°C to +125°C).
Benefits include:
Optimized Performance and Design

High resolution (up to 22 bits)
Small footprint (23 mm x 23 mm) saves board space, 34% smaller compared with (28.4 mm x 28.4 mm) of previous generation
Low power dissipation, 35% less power dissipated than previous generation (at nominal operation)
FBGA design enables ease of assembly

Flexibility & Ease of Use

Can be used with all 3.3V Synchro/Resolver converters and processors, no logic shifters required
No software or calibration required

Environmental

Military temperature range (-55°C to +125°C)
RoHS compliant
"DDC's second generation Synchro/Resolver two-speed combiner offers significant SWaP savings along with high resolution, to enable optimized PDB design," Roger Tomassi, DDC Product Line Manager, Motion Feedback.