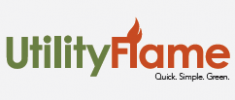 UTILITY FLAME™
UTILITY FLAME™ is THE heat source for field rations, field hygiene and survival. It is used by the armed forces of the United States and other NATO forces. It is the safe and more effective alternative to the flameless ration heater used for MRE. Unlike the old trioxane heat tabs and Esbit blocks, UTILITY FLAME™ is non-toxic, non-hazmat, smokeless and odorless. Ideal for whenever your forces need 'fire in the field.'
Military Field Rations - UTILITY FLAME™
It is the safer and more effective alternative to the flameless ration heater used for MRE.
Military Survival Gear Fire Gel
In addition to heating field rations, UTILITY FLAME ™ provides a source for light and heat in any environment. Field survival often requires a soldier to start a fire under less than ideal conditions. Burning at over 700° C, UTILITY FLAME ™ will start a fire anywhere, anytime.
Field Hygiene and Sanitation
Hot water in the field for hygiene and sanitation is not always possible, but with UTILITY FLAME ™ the modern warfighter can have clean, safe water in minutes.
Soldiers Kit and Equipment - Portable Military Fire Gel
It is so safe that it is approved for unrestricted transport on military and commercial aircraft, since it is a stable, non-toxic, and non-hazardous material with a low flash point.
Fire Starter Gel
The UTILITY FLAME™ kit comes with an ultra light metal stove that creates a convection flow that funnels the heat where it's needed. It fits standard issue canteen cups and pots weighing up to 1.3kg. It is perfect for all gel and solid fuel cookers including the Crusader Cooker and the Esbit Stove. Of course, the gel can be set directly on the ground or any other surface.
Fire Gel - UTILITY FLAME™
UTILITY FLAME™ is available in a 1.25 ounce packet and a re-sealable 6 ounce pouch. It can also be custom packaged to meet your specifications, including custom graphics to incorporate your information in your language.
In summary, UTILITY FLAME™ is light, inexpensive, safe to transport and use, and extremely versatile. It is an excellent addition to the soldiers' kit, and makes a valuable gift to allies in the field.
• Heats MRE entrees
• Provides hot water for hygiene
• Cooks indigenous foods
• Purifies water
• Boils water for hot beverages
• Gives off high temperature flame for emergency sterilization
• Does not evaporate, freeze or melt.
• Burns hot (700°C).
• Use in temperatures as low as -30°C and at elevations of 5,000+m.
• Not explosive (high ignition/flash point of 151°C)
• Zero vapor pressure
• Unlimited shelf life
• Water soluble — washes off with water
• Smokeless, odorless, non-toxic, and non-hazmat. No transport restrictions
• "Green" product. Byproducts are carbon dioxide, water, silica sand
• NSN number and available in COTS.
UTILITY FLAME™ is manufactured in the USA and distributed by the SIL Group of Tampa, Florida. The SIL Group draws on a number of retired military leaders as consultants, including MG (Ret) Geoffrey Lambert, former commanding general, U.S. Army Special Forces Command (Airborne), Fort Bragg, N.C.