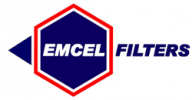 EMCEL Filters Ltd
The Company was formed in 1957 to produce air filters, meeting the needs of the fast growing electronics, air conditioning & process engineering industries. The Company introduced and patented many innovative filter designs and has also made a significant contribution to the technology associated with activated carbon filtration. Our current broad customer base includes many leading Pharmaceutical Companies, Telecommunication Networks, UK MoD, other NATO Armed Forces, Defence Laboratories and Nuclear Authorities. For application within the military/defence sector, EMCEL design, manufacture and supply a wide range of Filter Elements and Filtration Units, these include:
CBRN Filters and Safe-Change Filtration Units
For protection against Chemical, Biological, Radiological and Nuclear contaminants, these filters are produced to NATO specifications or custom designed for individual or COLPRO requirements. Among the range of CBRN filters produced by EMCEL is the latest generation of NATO radial flow combination filter, manufactured and tested in accordance with STANAG 4447.
In service with many NATO and other Navies, this filter provides CBRN protection through a combination of HEPA media and impregnated carbon granules integrated within the same casework. A Training Filter version of this Radial is also available. Manufactured to exactly the same dimensions, these filters are used to simulate weigh and airflow resistance within the system when CBRN filtration is not required.
EMCEL design and manufacture Safe-Change CBRN Units for a wide variety of critical applications including: Government Forensic Departments, Testing Facilities, Laboratories, Mail Rooms, Decontamination Sites and Strategic Building Protection. The units can be fully sealed or built to incorporate Safe-Change systems with a combination of Pre- Filters, HEPA Filters and Activated Carbon Filters to provide CBRN protection. TIC (Toxic Industrial Chemical) Filters can also be supplied if required.
Activated Carbon Filters
For the removal of odours, gases and vapours, EMCEL Activated Carbon Filters are suitable for many military applications where it is necessary to improve air quality within an enclosed area. EMCEL Slimline Filter Units are well suited for applications where a high level of filtration is needed but where space, in particular the filter depth, restrictions applies.
A range of composite activated carbon storage tank Breather Filters has been developed by EMCEL Filters to control the pollution effects of discharges to atmosphere. This is particularly relevant in cases where the displaced air, arising from tank filling or temperature effects, contains odorous, hazardous or toxic vapour contaminants.
HEPA Filters
For the high efficiency removal of airborne particles. EMCEL manufacture an extensive range of cylindrical and rectangular HEPA filters suitable for Hospital and Medical environments where protection from dust/particle exposure is critical.
For example: Laboratories, Glove Boxes, Clean Rooms, Sick Bays, Operating Theatres. All filters in this category are individually tested and certified in-house by EMCEL utilising our own comprehensive range of test equipment.
Particulate Filters and Pre-Filters
For dust control or pre-filtration. EMCEL manufacturer an extensive range of Particle Filters suitable for NBC/CBRN applications. These filters are extensively used for Pre-Filtration in naval vessels, fighting vehicles and land based systems to protect the CBRN filter system from dust and large particle invasion. Many differing, cleanable or disposable, filtration medias are available.
Frames/caseworks can be manufactured in painted mild steel, aluminium or 304/316 stainless steel. Filters produced to NATO or UK MoD Standards if required.
Flame retardant UL94 V-0 recognised air filters; A unique range of cleanable, foam air filters has been developed by EMCEL specifically for components and applications that are required to meet UL94 V-0 Flame Retardancy Test.