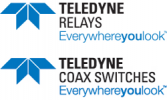 Teledyne Relays and Teledyne Coax Switches
Teledyne Relays is part of the Aerospace and Defence Electronics Business Segment of Teledyne Technologies Inc. Aerospace and Defence Electronics is one of four business segments that make up Teledyne Technologies Inc.
50 Years ago Teledyne Relays came into being with the innovative and yet to be bettered TO-5 electro-mechanical relay design. A fully hermetically sealed all metal enclosure was used to maximise the environmental capabilities of the design. Filling the enclosure with dry nitrogen added to the robustness of the relay making it able to be stored for long periods of time or be capable of first time operation in applications where the relay is dormant for weeks, months, or even years.
TO-5 and Centigrid Relays
The TO-5 and its sister product the Centigrid® relay have been manufactured at the same location in Hawthorne, Los Angeles for around 50 years.
During the first years of manufacture, the relays have found numerous applications in Military, Aerospace and Defence applications. As the reputation for reliability grew there followed the addition of more sensitive versions to reduce power demand, and then magnetic latching versions which require only a pulse to switch the relay. MIL Specification qualification of many of the Teledyne Relay Series was a highlight of the early years of development and is maintained today, with new relays being added. From this time of development and qualification, and the proving of reliability in many Military, Defence and Aerospace applications, Space Flight programme designers looked to Teledyne to provide high reliability with robust environmental capabilities.
The first programme being Voyager,
now 35 years since the launch of Voyager 1 and still going strong.
In response to market demands, early in 2000, Teledyne Relays developed and launched the first of its now many RF relays. This first device is characterised at 2.0 GHz. The RF100 led the way into many, many ATE, Wireless, Mobile Communications, RF & Digital Test Instrumentation applications.
Over the 50 years of operations, Teledyne Relays have continually expanded and developed the relays portfolio, taking it from the early military design wins to today's high speed digital and high frequency RF designs to support the latest test and measurement and switching applications.
The current range offers the original product series, plus the newer, but no less innovative relays characterised for frequencies to 8GHz and data rates to 18Gbps.
MIL Qualified Half Crystal Can Relay
The innovation continues with Teledyne responding to market demands for higher contact ratings, launching the 255 half crystal can relays.
Although a mature package, this is the first ever MIL Qualified version of the magnetic latching variant of the half crystal can relay.
Coaxial Switches and Switch Matrices
In addition to the TO-5 and Centigrid® relays, Teledyne Relays took over the manufacture of RF Coaxial Switches from Teledyne Wireless more than 10 years ago. Teledyne Coax is now a brand within Teledyne Relays with a range of RF coaxial switches and coaxial switching matrices contained in two selection guides. The original range of switches were characterised at 12, 18, 22 and 26.5GHz in SPDT, Transfer and SP Multi-Throw options. Within the range are switches with high power ratings and higher operating temperature ratings.
As with the RF electro-mechanical TO-5 and Centigrid® relays, Teledyne have responded to market needs by developing first a 33GHZ SPDT switch, and now has a 40GHz switch in development. The communications market has demands for Low Passive Intermodulation switches (Low PIM), and the test and measurement market has demands for Low Tribo-Electric switches. Teledyne have in development switches to individually meet both of these requirements. As with the TO-5 and Centigrid® relays, Teledyne have worked with customers in the space market, developing and building switches and multi-switch blocks for programmes including Earth and distant planet observation and high capacity communications satellites for secure and open wireless and telecommunications users.
As an option, Teledyne Coax now offers a design and build service for coaxial switch matrices.
Teledyne engineers will develop, in conjunction with the customer, a product to meet the switching and control needs of the programme. Teledyne have developed a Universal Power Supply and a Universal Control Interface to make the design as simple as possible. Teledyne Coax has produced a Coax Switch Matrix Selection Guide which contains four standard matrices and all the information necessary to engage with our engineers to specify a custom matrix.
Military Solid State Relays
To complement the electro-mechanical relays and coaxial switches and matrices, Teledyne Relays engineers developed a range of high performance solid state relays in hermetically sealed packages incorporating ceramic substrates and using bare die and wire bonding techniques to provide exceptionally small, but highly robust products.
Rated for both DC & AC loads, the solid state relays quickly became popular with designers and engineers for programmes in the Military, Defence and Aerospace markets.
Plastic Military Solid State Relays
Responding to demand for smaller, lighter, lower cost switching products, the Teledyne engineers focussed on plastic packages to meet those needs. The latest versions of these high performance Military Solid state relays have options for screening, short circuit protection and switch status. The plastic packaged devices have a surface mount option in addition to the standard through hole mounting.
The load limit of these relays is 10A, and the market demanded higher current ratings.
Solid State Power Controllers
To meet the need for more power, Teledyne Relays developed solid state power controllers rated up to 75A. The idea of a power controller rather than a simple relay is to provide more functionality in both the control and the load switch circuits. The controllers have options of circuit or overload protection, load switch status, current detection and temperature compensation.
We also design and manufacture custom Solid State Power Controllers and Switching devices for load control and power control & distribution ranging from full hermetic to COTS to plastic devices for Military, Aviation and Space applications. We offer next level assemblies by packaging multiple devices on a bus-mounted PCB with integrated control and communications electronics.
We offer build to print services for power devices, including Actuator/Motor Control, Battery Chargers, 3 Phase Power Bridges, DC/DC Converters, Power Conditioners and EMI Filters.
Industrial Solid State Relays
Complementing the solid state relays designed for the military and aerospace market, Teledyne Relays have a catalogue of Industrial Solid State relays designed for applications in heating, lighting, motor and process control. The catalogue contains single, double, three and four switch relays with through hole pcb mounting, panel and chassis mounting and the addition of DIN Rail mounting for some relays.
As part of the specialist motor control range, there are customer programmable Soft Start AC motor controllers rated up to 26kW and a 7.5kW motor reverser device.
The range offers current ratings up to 125A AC and 150A DC. AC load voltages to 690Vrms and DC load voltages to 1700V.
Heat sinks are an integral part of solid state relay applications and there are heat sinks in the catalogues along with some PCB mounting and DIN Rail mounting devices already mounted to heat sinks. Part of the specification which sets the range above most competitors is the 800Hz operating frequency for some AC Rated part numbers. These devices and those with 400Hz switching are offered with both random and Zero Cross switching. The Zero Cross 'window' is very closely controlled at ±12V, much improved on earlier solid sate relays.
In conclusion, Teledyne Relays is the preeminent provider of switching products. It is recognised as the home for reliability and repeatability whether in a simple lighting control, a burn-in board for a semi-conductor device, avionics or a space mission. The care and attention to detail for every relay built is evident in the low (2%) yield loss at final test, and the service life of the products when they reach our customers no matter from which product range a device may come. Teledyne are committed to providing excellent switching solutions, listening to the markets and to working with our customers to ensure we are developing the right products for the future.