Texelis
Background
In 2019 Texelis's turnover was €91 million, it employs 330 staff and its production facility extends to over 35,000 m2. The current production facility in Limoges is the third one to be built on the site with the two previous ones being bombed by the Allies in 1944, by 1946 the site had been fully rebuilt and was firmly focused on the repair and maintenance of French military vehicles.
Support and Innovation
Texelis supports its customers with full design, manufacture, renovation and maintenance services.​​​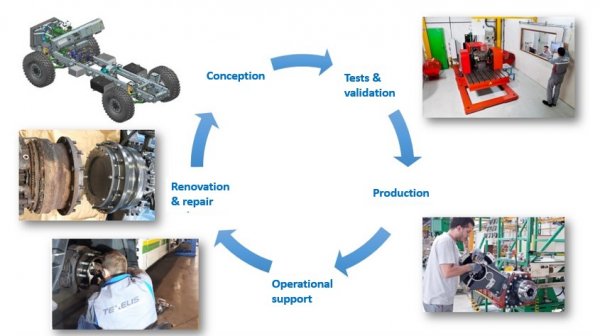 TEXELIS' strategy is built on innovation. We deliver solutions for today's transport and defence markets, while working on new concepts that maximise hybridisation, motorisation and increased capabilities to meet the challenges of the future.
Texelis has an experienced in-house specialist design team, constantly looking for new solutions.
Equipped with high-performance tools such as CATIA, Romax, ANSYS and a cutting-edge digital design suite, the TEXELIS design team produces solutions that meet exacting performance, manufacturing and cost-efficiency requirements.
Texelis provides support throughout the full lifecycle for each of our in-service products.
With a support team that spans the globe and a dedicated refurbishment facility at our Limoges site, Texelis can provide maintenance, repair and overhaul services at a time and place that suits the specific needs of each customer. Our experts continuously work to update and re-engineer all our in-service products and deliver those improvements across our customer base.
Mobility Solutions
Serval or VBMR(L)
Expertise gained over many decades working with vehicle manufacturers and military forces across the world led to Texelis being selected as a Tier 1 supplier to the French DGA for the Light Armoured Multi-Role Vehicle-Light (VBMR-L), part of the French Scorpion programme.
Texelis is responsible for delivering the full vehicle driveline for integration with the systems produced by Nexter for Serval.
This solution has been designed to maximise mobility for the extremely demanding and restrictive environment in which the French Army's vehicle fleet operates in today's battlefield, delivering advanced protection, and enhanced strategic and tactical mobility.
Rolling Chassis Solutions
Texelis's complete chassis incorporates advanced innovation to deliver high quality, technically advanced mobility solutions. These are designed for gross chassis weights from 14 to 18,000kg. They can be fitted to both chassis rails and monocoque hulls.
This approach allows our customers to benefit from technically mature designs that have been assembled and tested on multiple vehicle types. The result is guaranteed reliability, proven and qualified equipment and reduced development time and costs.
Independent Suspension Axle Systems
Texelis provides two variants of independent suspension axle systems. Core to these solutions are robustness and reliability proven during thousands of kilometres of use in the most extreme conditions.
Complementary systems such as transfer cases, steering systems and amphibious transmissions allow the axle systems to be configured as a complete solution delivering optimal mobility and performance.
T700™
This is a modular transmission system for military and commercial 4x4 vehicles which require axle loads up to 7000 kg.
The T700™ axle system uses proven modular sub-systems from the Texelis range of rigid axles, such as wheel hubs and differentials, combined with Timoney's independent suspension technology.
T900™
The modular T900 ™ system manufactured by Texelis under licence from Timony, has been adopted by military vehicle OEMs for a range of applications requiring independent suspension with an axle load of up to 9000 kg.
The T900 solution is in service in many 4x4, 6x6 and 8x8 vehicles across the world where reliability in the harshest environments is required.
Complementary systems such as transfer cases, steering systems and amphibious transmissions allow the T900™ to be configured as a complete solution delivering optimal mobility and performance.
Rigid Axle Range
Texelis has drawn on its extensive experience designing small and medium rigid axles for trucks and buses to develop a new range of rigid bridges for off-road military trucks.
Texelis supports off-road vehicle manufacturers with a range of high-performance equipment, preserving high loading capacity, flexibility of use, optimisation of ground clearance and vehicle mobility, and maximising traction on all terrain.
The rigid axles can be fitted with steering solutions which provide a tight turning radius and high performance with superior ride quality.